Site Content
Additional Information
Make sure your backing is at least 4" larger on all 4 sides than your quilt top. This allows me enough fabric to attach the backing to my frame and quilt all the way to the edge of your quilt.
If your backing needs to be seamed, I will need to load the backing so that the seam runs parallel with my frame rail (0therwise, there is no way to not get tucks/pleats in the back). I find the best way to seam backing is to use at least 5/8" seam (be sure to cut off salvage) and then press the seam open. It will be much smoother and less noticeable. If you want me to seam/prepare the backing, there will be a $10.00 charge.
If you supply your own batting, it also needs to be larger than the quilt top (same size as backing).
I have 3 types of batting available, Hobbs 80/20, Warm & Natural cotton and Polyester. I buy in bulk so can sell it to you for about the same as Joann's 50% off price (I charge by the inch, so sometimes is much less than what you would have paid at Joanns!)
Please give your quilt top a good press, preferably from the front, take care that there are no tucks/folds around the seams (by pressing from the front, you are more likely to catch these). Tucks will most likely be quilted in, or could get caught on the foot of my machine and cause a tear. If you want me to press your quilt there will be a $10 charge for up to twin size, $15 for Double - King size.
All over (edge to edge) designs start at $0.0175 per square inch ($50 minimum)
Adding custom borders to an edge to edge design starts at $0.03 per square inch.
Custom designs (each block quilted with block design) start at $0.05 per square inch.
Stitch in the ditch starts at $0.05 per square inch.
You will have your choice of 100's of quilting designs. Think about what type of design you would like on your quilt, if you're not sure, I'm happy to suggest what I think would look good on your quilt!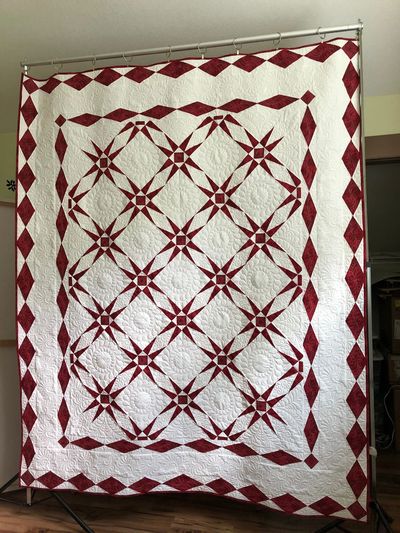 An example of custom quilting